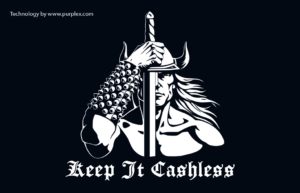 WHAT IS CASHLESS-PAYMENT?
The cashless system is a card-based payment system that replaces cash and allows faster, easier and safer payment at festivals. The cashless card can be purchased atthe festival with any amount. You can pay for everything at the entire festival with thecashless card, which can be recharged at the cashless point on the festival grounds and also refunded again.
WHAT IS A CASHLESS CARD?
The cashless card is a credit card sized plastic card that contains a near field communication (NFC) chip that securely and reliably stores your payment information.
HOW DO I GET MY CASHLESS CARD?
You can get the card at the cashless point on the festival ground.
WHAT POSSIBILITIES DO I HAVE TO CHARGE THE CASHLESS CARD?
The following options are available: debit card, credit card and cash.
CAN I ONLY PAY CASHLESS?
All food and drink stands and bars YES, but the merchandise stand accepts only cash, EC-card or credit card
HOW MUCH BALANCES CAN I ONLY LOAD ON A CARD?
Due to the risk of loss, the cashless card is limited to 150, – €.
HOW DO I PAY WITH THE CARD?
Our staff will place your order in our mobile cash register and show you the amount that will be debited. Then you give our staff your cashless card to charge the amount. Afterwards you get your goods. At the end, your remaining balance will be shown on the display of the mobile cash register.
Tip: To be sure that everything went well, just ask for the current balance on your cashless card before placing your order. Later complaints and cancellations will not be carried out. Only when the payment process is completed, you will get the purchased product / service.
HOW CAN I CHECK MY CREDIT?
You can view your current balance at any time at any bar, stand, food station or cashless point. Just ask for account balance, give the staff your card and they will show you the display with your account balance.
WHAT HAPPENS WHEN MY BALANCE IS UTILIZED?
Do not worry, when your credit ends, you can always recharge, as often you want.
IS THERE A DEPOSIT FOR THE CARD?
Yes, there is a card deposit: € 2 per card. This amount will be deducted directly from the initial charge, which means: If you pick up your card and give 100 € on initial charge, your balance will be 98 €. The remaining 2 € will be kept as a deposit and are locked. You get the deposit only when returning the card at the festival. The return can only be done at the cashless points. Tip: There will be a new edition next year, so you can keep the cards as souvenirs.
WHAT HAPPENS WITH MY UNUSED CREDIT?
Of course you will get back what you did not spend at the end of the festival! This is free of charge at the cashless points. Please note that a refund is only possible during the festival.
CAN I SPEND MY UNUSED CREDIT AT NEXT YEAR KIT?
Yes, you can spend the money on your card next year.
CAN I RE-USE MY CASHLESS CARD NEXT YEAR?
Yes, of course you can reuse your card next year.
WHAT HAPPENS IF I LOSE MY CASHLESS CARD OR IT IS STOLEN?
A registration of the visitor data is not provided on the KIT, which is why it is not possible to refund credit in case of card loss or to block cards. So please take good care of your card and treat it like your cash.
IS MY CONSUMPTION STORED WITH MY NAME?
No, we do not collect data about you. Personalized data will not be stored or evaluated in connection with your consumption.
WHO CAN I CONTACT IN CASE OF A PROBLEM OR QUESTION?
If you have any questions, you can contact our cashless partner via hello@purplex.com. During the festival you will find our service staff at the cashless